Hey there! Hi there!
How are you all?!
I'm doing okay...
I've been a bit stressed out lately but I'm trying my best to take it in stride.
Life...is ...stressful, amirite?!
Anyway I am here today to share this layout:
"Sit Still Look Pretty"
Just a couple of cute photos of our cat Panini.
I created this the same day I created
"Netflix Cat"...
I guess I was just in the mood to scrap our kitty?!
Some things I wanted to point out about this layout:
>> Title was for a Challenge over at SB.com; the "February Music" Challenge
This is for Category #2 - Song Title
I chose "Sit Still, Look Pretty" by Daya
Aren't the photos perfect (or should I say purrrrr-fect?!) for that title!!!
*INCLUDES TWIST* of using red.
>> The BG, and overall design, was inspired by the SB.com Round Robin Challenge.
Here was the starting inspiration and the layout that proceeded mine; I was #2 on my team:
Inspiration: Week #1:
I wanted to keep w/ the striped BG but was too lazy to create it so I went w/ an already printed PP as my BG even though none of the stripes were lopsided as per the sketch.
*INCLUDES TWIST* of using flowers.
>> I cut the photo on the left into a circle because
- 1) it came out darker than I expected when it was printed
- 2) I had included way too much of the BG scenery in the photo
Both rookie mistakes! UGH! LOL!
So to make the photo stand out a little better I cut it into a circle that would cause an extreme close-up of our precious kitty and mounted it to a large Project Life Card to give it more "strength".
>> The BG paper and the PP used for the circle and bottom strip of paper is the other side of the BG paper and the PP I used for 2 of the circles on"Netflix Cat".
W/ most Scrapbook Paper packs you get doubles of each sheet so that you can use both sides.
IDK about you but I sometimes have trouble trying to decide what side of a double sided paper to use so when I can use both, I try really hard too!
Here are the papers I used: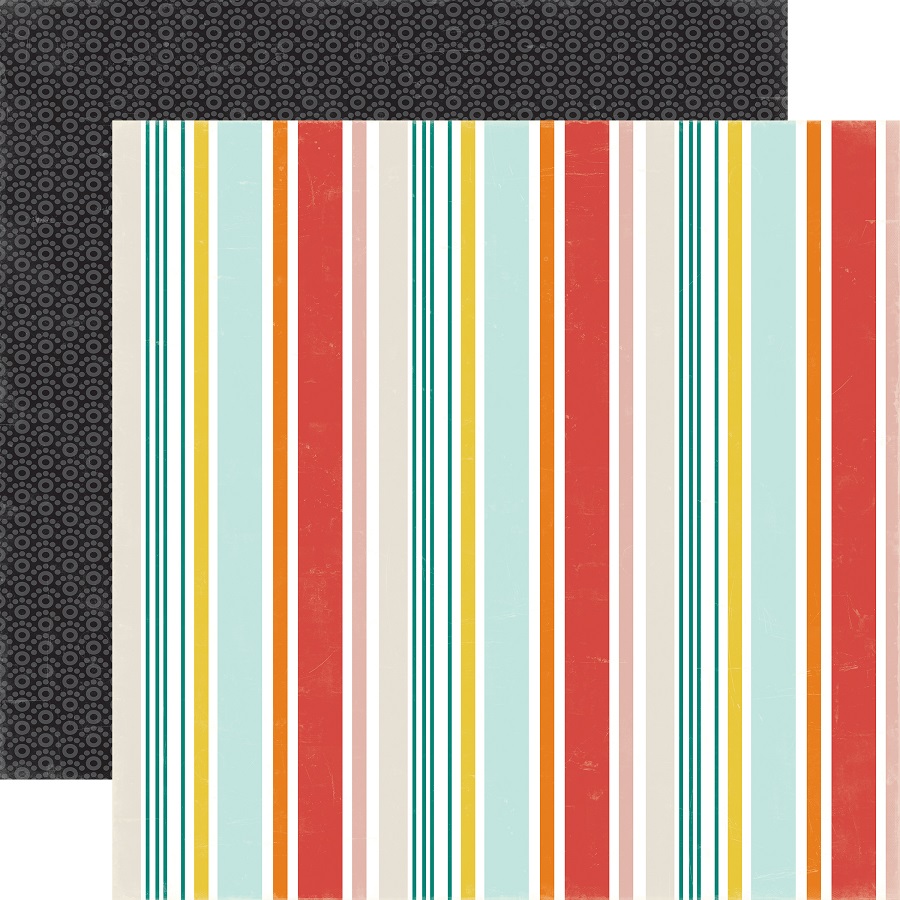 The only thing I am a bit unhappy w/ is on this layout since I used the "non-kitty" themed side, I feel like the layout doesn't feel very "pet-like", KWIM?
That obviously is not the case w/ the other layout!
Finally...
>> Other than the big red heart, which is directly printed on the Project Life Card, the entire row of embellishments at the bottom are stickers I've had in my stash for many, many, many years!
Glad to finally have a good use for them!
Hope you're having and continue to have a good week!
TFSB!
-----------------------------------------------------------------------------------------------------
Created for the following SB.com February challenges:
>National ___________ Day
For "National Love Your Pet Day"
*NO TWIST* none given
>Scrap Your Pet
*INCLUDES TWIST* of Red, White, and Pink
>Round Robin
I was player #2 on my team
*INCLUDES TWIST* of flowers
>Music Challenge
Category #2 - Song Title
I used "Sit Still Look Pretty" by Daya
*INCLUDES TWIST* of red
>Scraps
I used 2 scraps
-Pink polka dot paper (in 2 places)
-Yellow square
*NO TWIST*
>Hoarders
29 items
-Alphas (19)
-PL card
-Heart
-Flowers (8)
*NO TWIST*
>Sticker
I used 31
-Alphas (19)
-Hearts (3)
-Flowers (8)
-"Such a Pretty Kitty"
*NO TWIST*