Well, hello there!
Long time no blog!
I've just been taking a little break; enjoying other fun hobbies!
But I'm back and w/ a vengeance ( I have 3 days worth of blog posts coming up)!
The inspiration this week: Dot-to-Dot
I loved dot-to-dots when I was a little girl and my daughter, who is 11, has and still does! In fact she recently asked me to buy her some more, although she wants the ones w/ lots of dots to make it more challenging! Oh, I guess like the ones in the inspiration pic! LOL! "Over 1, 400 dots"?? Wow! I will have to look out for those!
Okay on to my layout.
"1st Visit - Sugar Factory Restaurant"
Journaling: (circle sticker) "7/15/13 - Vegas, 12th wedding anniversary."
(square journaling spot): "A delicious, filling lunch accompanied by an
alcoholic version of a root beer float = Good Times!"
As you may know I love the Sugar Factory store, but I have never eaten at the Sugar Factory restaurant. So for our 12th anniversary we decided to have lunch there. It was pricey but oh so good!
The food was delicious and the portions so big! And the drinks they have to offer are so fun and original! We went for a root beer float since I pretty much like anything w/ alcohol in it (LOL) and my hubby, who doesn't drink, loves root beer floats; it was our way of compromising. Not sure if you can tell but it has those "root beer bottle" candies floating in it. All the alcoholic beverages have some kind of candy thrown in! Like I said, "fun"! We decided we would definitely go back! And coming from my hubby who is very picky, that is a major compliment to the restaurant!!
Okay so if you haven't noticed the pieces that I included from the inspiration photo: the circles on my patterned paper mimic the "dots" and I numbered my pictures to show what order they were taken in.
Also, I was inspired by this sketch from Scrapbook.com: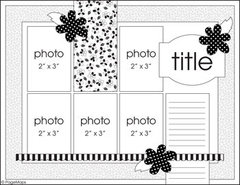 Okay enough about me!
Let me see what you can do!
Stop by the CPC blog and share your inspired creation! There is a price up for grabs!
You have until August 31, 2013.